Bono serenades Billionaire Philanthropist: I End up a Little more Ill, -Ill enough to vent. It's hard to love the PR stooges of the apocalypse. (Look who's first up on the front line.)
Buying Silence: Why So Many Democrats Are Silent About Standing Rock - Counterpunch -WHY? Well it could be this, this, This, or THIS!!! Construction continues... Not to mention there's THIS sordid history, and THIS.... Yes, this is Bono's secondary billionaire sponsor for ONE Campaign. (Buffet provided half of the Gates Foundation financing, to the tune of $30 billion.) Since the Gates Foundation allotment from Buffett is in fact Berkshire Hathaway shares now and posthumously (this is not insignificant:

"

Berkshire Hathaway Inc. (NYSE:BRK.B)

 continues to be the trust's [the Bill and Melinda Gates Trust Foundation's] largest holding, now worth 

47.5% of its entire 13F portfolio

." I realize the source reference is very far down, but it's worth getting there. -Also

 Gates Foundation is highly invested in CN as well; it isn't just Bill Gates' private holding). Phillips 66 (who has a 25% stake in DAPL) was reported as Berkshire Hathaway's 6th largest holding (Buffett owned 14%), before it went up and past being an investment of over $6.5 billion - now it's at 22% -  Berkshire Hathaway are

 

the majority shareholder of Phillips 66

), that means Gates Foundation is a DAPL investor

. It is not like Bill Gates is unaware of this as he sits on Berkshire Hathaway's board of directors.
That means Bono's ONE Campaign is financially dependent on the brutality being carried out at Standing Rock right now. (Not that they disclose how significantly. They're not exactly forthcoming (nor is the sourcing), but with a $31.8 million budget for 2014, a grants total to ONE of $135 million (as per the Gates Foundation's own declaration) is obviously 'significant'. The collaboration begins with ONE's inception as an awareness campaign (81% of its budget for 2014), and goes back.) Waaay down below I got a hyperlink assertion that ONE is 50% dependent on the Gates Foundation. (Which probably worked out at the time, say, financially for that year.)
(I'm willing to bet you the link's been disappeared just like the sourcing above, as this whole essay (including its revised repeats, was magically link evacuated without my doing or consent on tumblr).) 
RED's dependent on the Gates Foundation financially as well. -Just think, until Bono/RED succeed in fundraising $78 Million as we speak, your donations, each and every one, will be matched by Gates Foundation, which is dependent on Buffet's funding by way of his granting them Berkshire Hathaway shares, when Berkshire Hathaway pretty much owns Phillips 66. So you are, in part, being matched, financially, by the Dakota Access pipeline enforced by this level of violence neither Obama, nor Clinton nor the Democrats (nor Bono for that matter), give a flying frag about, so long as their top billionaire donor profits. Welcome to consumer philanthropy. (The Price is Right! Honestly, this is all we've got to talk about.)
MAC IS BACK. #NoDAPL
PS: Don't expect to hear about this from the New York Times, NPR, the Guardian, NBC, or Seattle Times etc. (I suspect Grist, as my tumblr original & revisions of this essay were magically link cleaned after I posted comments there with the hyperlinks inside thorough expose(s). Actually Grist's editorial coyness is explained by Bill McKibben being on their board fo directors, since 350.org is funded by Tides Foundation, which receives funding from Warren Buffet's Novo Foundation. NYT won't permit you to comment.)
PPS: Bono and I have been tete-a-teting about trains for a really, really long time now. (To give you an idea, the theme was delivered to him personally 17 years ago (Chapter 22), so it threads the book from p. 676 to p. 695, p. 998, p. 1009, p. 1141, p. 1161-2, p. 1171 and lastly p. 1198.) Then it became an essay (to him) on tumblr just three days before Lac-Megantic was blown up by one out of Bakken (which caused a twitter assault on the subject many, many times, -like every subsequent explosion). No s*** Eh? The sub-title of this essay is a title quote of practically the only hand written delivery Bono ever received from me, in 1999. 
ALL HAIL who called it first: 
KEYSTONE XL: THE ART OF NGO DISCOURSE: Part 1, 2, 3, and 4 
The Why? Bono's ONE receives half its funding from the Gates Foundation, which in turn got half its funding from Warren Buffet (the link allegations are much further down, and as you can see, it was not the entire quantity in a lump sum), -hence the serenade. It's all wonderful, until you look into where the profits are coming from, et cetera, and how much power to change the world they really possess, which is purely a reflection on the most extreme global inequity the world has ever known. Welcome to #NODAPL. And the Treaty Alliance Against Tar Sands Expansion (now over 120 Tribes). Welcome to how neoliberals run the resources.
Canada's government spies on and harasses citizens who peacefully question petro-corporate aims. - The Tyee
ALL ABOARD! These topics are gaining steam it seems: 
"One thing we have found is that the military in the US are more awake to the importance of development in Africa than most other government departments." - Bono - The Guardian removed this article, but it had a review.
Where Oil and Politics Mix - New York Times -which lays out a screaming conflict of interest for BNSF involving nigh criminal negligence when it came to the risk to human lives (considering the dangerously explosive Bakken VOC content of every BNSF shipment for frack products on every oil train, product coincidentally owned by BNSF's energy division, Burlington Resources). NYT didn't bother to call BNSF on it (it's not like one could profess being deluded as per the potential danger of the contents before they blew) -and yeah, the only thing you can do with a conflict of interest like that before it goes BOOM is sell the energy division, which BNSF did -NYT had a Part I (Caveat: this was before Buffett bought BNSF, but it's obvious they knew the danger and cleared themselves of liability.) NYT would make no mention that the photo they depicted of the burnt shell of an engine from a train that exploded outside of Casselton, ND was a BNSF train, just to avoid the implications of what was happening while Buffett owned it.
Which brings up the obvious, -your craven, lickspittle, limp spine enough to induce whiplash obeisance you claim to call governance: Federal hazmat regulator AWOL from North Dakota oilfields
Oil train mishaps reveal tank car strengths and limitations - Railway Age - two accidents, same day, plus a third within a week, show new cars are not going to solve [both the tar sands and Bakken] volatility issue, -not even in the dead of winter.
Who Owns the Sun? Warren Buffett controls Nevada's legacy utility (it's a coal plant). Elon Musk is behind the solar company that's upending the market. Let the fun begin. I.E. the corporate mandate of profitability above all else (its inherent amorality) prevents and stymies progress, even in the face of potential planetary destruction. Its glaring fallacy is obvious. The panacea offered to justify itself to deflect from its (utterly destructive) "amorality" (the total inability of the market to guide or manage society) is philanthropy. It's an attempt to justify the killer profiteers' forms of attainment. (Oh and, ain't it a win-win that he also provides the voting machines?)
Facebook's Sheryl Sandberg et al literally have no clue when their conduct in advertising is illegally racist. She sits on ONE's Board of Directors. So do two individuals running the Gates Foundation, someone from Forbes (which Bono's Elevation Partners used to have majority control over at $264 million), someone from Caterpillar (the corporation subject to #BDS after their [militarized] equipment was used to kill an American citizen (as well as carry out extra-judicial killings), information which made no difference to sales), someone from Bloomberg, Larry Summers (the "Typhoid Mary of Economics"), and a Buffett, who runs a foundation out of his wealth.   
Were you surprised when the Gates Foundation rejected The Guardian's fossil fuel divestment campaign as a pointless effort? Can't say I was.
There were new developments in this essay, ranging from Ireland shady to questionably criminal in the very top ranks of BC political rule. The keynote becomes *we're all connected ; )*.
The Globe and Mail zeroed in on the inordinate federal powers still held by formerly nationalized rail companies used to abuse Canadians whilst simultaneously abusing the entitlements of privatization (i.e., Gates' CN investment, which rang in the New Year with a bang (and tipple)), whilst getting whistleblown for corruption while failing its mandate.
It is also, with the acquisition of former provincial railway BC Rail (the questionably criminal acquisition)  becoming an industry with little corporate diversity. The CEO responsible for midwifing CN and CP into privatization is a real charmer, and CP's record is equally "accident" prone with his arrival (and perhaps his departure as well, which made no difference either way).
Warren apparently got ugly, and then even uglier (he diversified of course, -and then went on as the world's richest individual to seek to protect himself from potential liability if his railway happened to blow any town sky high, as it was only a mile out from doing to Casselton, ND in January, 2013).
Horrid connect the dots were made. There appeared to be notice. -Forbes sunk even lower. Oh and, Noam officially announced we're under a "plutocracy" after I did. Oh, and Bill Gates biggest profit milk cow for 2013 apart from Microsoft was CN, apparently. Welcome to the profit mill that begets tar sands philanthropy.
-A final caveat, -this essay was first posted in June, 2013, before the train explosion that engulfed Lac-Megantic, Quebec, killing forty-seven people.
The Gates Foundation's Hypocritical Investments: When the Dots are this Easy, -Why?
Philanthropy as the Ultimate Hubris
This is what you get, I guess, for bedding with your said economists, and financial deregulators (Bingo!) -Not to mention you just had to serenade Warren Buffet. (Business is brisk, obviously, positively booming -See? -Boom, Boom).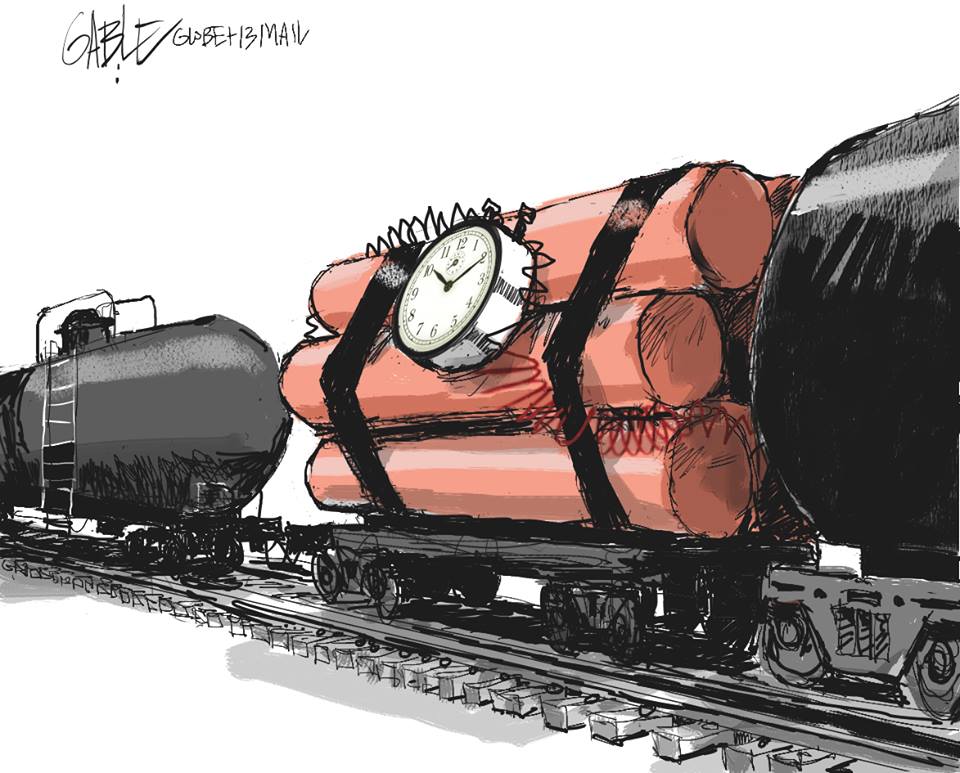 -Neo-liberalism at its finest. Not to mention, et tu, Bill Gates? (-Respectfully, No Logo, who isolated this trend and Microsoft's institutionalization of it, before its all too predictable race to the collective bottom, again relying on taxpayers to shore up their abuse of workers in terms of the nature of "part-time" work, and trenchant reinforcement of work below any realm of living wage. Your linkages in high places just love these sorts of angles. -Zuckerberg wants to be able to undercut the wages he'd have to pay for the exact same training in US citizens, bringing down the bar (article is a fine indicator of manner of doing business), and lookie (!) -they love Monsanto and foundation/advocacy policy steerage too, all on matters so close to their collective hearts!
Mrs. Clinton's Monsanto sweetheart crawled out of Burson-Marsteller. (-When you need  friends in high places…) Chapter 7 should have been informative on that count, in terms of how they're "greenwash-your-planetary-destruction-for-hire" Enemy#1. (-They'll PR whitewash your people destruction too.) This, by capitalist US standards, is an exemplary resume, and you wonder why there's a problem when it's the very definition of the subversion of normal decent people to "just following orders".
They sound nice. They're charitable which makes them the "nice" ones of the lot. Memo: Mr. Clinton's lifestyle changes in no way compensate for being a prime architect in the ransacking the US economy via financial deregulation for the eventuated disembowelment of the middle class. Clinton was responsible for mainlining fascist ilk/architects of societal destruction, but this blowhard is apparently on your ONE board. (Hint: Not even his labour secretary believes him.) PS: The wars he's responsible for germinating are just beginning their perpetual motion; they've barely begun.
Nor does an element of personal reform in any way compensate for being a warmonger (yes, the authorship's a little ironic) -she of the "red line" debacle, and then some, warfare being the neo-liberal card carrying choice for election. And re-election, with both parties ramping up the destruction once they're in power of the ratifications created in the aftermath of the world wars (in order to prevent them), not to mention abrogating domestic law. (Such posturing does not serve to conceal the pronounced deficit in informed intelligence that goes into such pedantic, (banal if it weren't for its barbarity) policy reaction.) Neoliberalism = 'war is profit'.
The real point is that everyone knows why this is. -And this: Clintons's $200,000 an Hour Pay From Goldman Sachs is Nothing to Laugh At
These are your friends in high places; Nobel Laureates who've graduated the Orwellian school of cognitive dissonance, authorizing child murders by way of collateral damage ridden drone strikes in nations where the US has not declared war, auteurs in bloodshed where the baseness and basic motives never change, just the realm of rank opportunism made in one's own image. We need to start talking about the venality as well as the banality of evil; it's erudite in three piece suits, the province of people with families who love their children. The consequences, however, range in the hundreds of years.
 –On the home front, I bet those young Irish temps are just thrilled you've provided themsuch horrible jobs working for Facebook, btw; (for a synopsis of what Bono's actually defending in terms of helping to bring in Google and Facebook thanks to Ireland's "tax competitiveness", this doc will serve you well, -but then there's the nature of the jobs actually being provided as a subtext to justify US tax evasion (-top contender? –Microsoft) -expect they are bottom of the barrel wage positions if the Third World subcontract parties are getting a dollar an hour to suffer psychological abuse literally for hours on end. -Besides which, I know the wage and working conditions as existed at your hotel; Irish "minimum wage" in the age of the Celtic Tiger was a crock; Dublin was exploiting a huge influx of young foreign workers at a standard nigh universal wage of three pounds an hour in the service industry to work their tourism boom, which means there were situations where it was less.
Your management added insult to injury by robbing the wait staff even of their tips; (they had this excuse of an annual party they claimed was the use of the tip disbursement, -that would have been pennies to the dollar). You are apparently tone deaf and oblivious to the exploitation of youth labour in the service industry, your own assets included (an obvious cause for consideration and worry), otherwise known as, no, you can't change that capitalism's definition of "thriving" is rampant exploitation, human labour included. The existent nature of the fashion/textile industry with its astronomical retail mark-ups combines this exploitation at its highest level of soul eating toxicity with the very definition of conspicuous consumption, and yet you entered this arena thinking there lay a potential to do good? It's not so simple when the textile industry is inherent in its design to preclude fair trade; try, and you go out of business. It's as murderous as chemical warfare, without reprisal (and its realm of exploitation is female labour). -No, you can't change the world (it's bloody slow); no, you don't have a choice; your servicing of the prevailing selective morality (enabling their lies of omission; "Arab Spring" does not extend to the home of the US Fifth Fleet); -your servility is the only reason you're permitted to function.
Given the stats "in the air" when I worked there were that Irish youth unemployment was 1 in 5 during the Celtic Tiger period (the dole was preferable to all the lousy service jobs, why would anyone want them, which was fine by everyone as you had all these foreigners to perform them), I can hardly imagine what it is now thanks to the acceptance of austerity, except that it provides a ready staple of cannon fodder for ruthless temp-style impoverished "work"; it don't get more ruthless in nature than Facebook's. They are there because Ireland exploits its youth in the service industry. The local hotel industry's absolutely abusive nature is historic, which only got "better" when Ireland was forced to submit to austerity; now the youth don't have a choice. This is what in fact, our technocratic cutting edge is setting out to "provide" ("precariats" –good word); Ireland has the youth fodder to provide for it in the austerity age. Given how "in touch" you were when it came to your hotel, do you have any real clue about these other ventures? But that's getting off-point, which is the true nature of neo-liberal ilk; its coverage of truly heinous sins far outstripping the papal sale of indulgences.
-Did Warren and Bill like their tar sands tour? They don't live with this toxic time bomb. These people do. (-Talk about being on the wrong bus; -Go, Leo!) They don't call it the "World's Dirtiest Oil" for nothing.

If you knew what sort of neo-liberals ran the backwoods (this was due to the fraud they ran by indebting the third largest public electrical utility company in Canada (BC Hydro, built on hydro-power), for nothing, to US corporations –that's the "contractual obligations" bit these worthless gits deliberately bankrupted our sustainable public utility with for the sake of US privatization interests, to the tune of $80 billion (source depending), you'd deserve the illness it caused you (but then, financial deregulators are your "it" crowd). As per usual, the bastards did it by force. (Here we go again.) This is just beginning to come home to roost.
-And yes, there is a connect, as when they were running the neo-liberal show in BC, that's when Bill Gates' investment, CN, acquired BC Rail (yet another railway previously owned by the Canadian public) –under circumstances that were dubious in the extreme, -and there our "new" neoliberal premier's household comes up as the object in a search warrant. It wouldn't be profitable without unbridled corruption aiding and abetting the centrifugal distribution of the levers of our economy to a very select few. -As for how neo-liberals even get re-elected, -never mind. It would be illegal stateside. (This highly dubious election win prevented a public inquiry into the scandal surrounding the sale of BC Rail to CN, which was uncovered in a corruption court case of acting liberal party members that was more or less deep sixed (RCMP warrants for the first time in history conducted on offices at the BC Legislature), -with BC taxpayers being  forced to foot the defendant's 6 mil$ defense tab; –a Warren Buffet BNSF subsidiary, Omnitrax, was also involved in the bidding for BC Rail and allegedly embroiled in the bribery aspects of the scandal). The reigning neo-liberal premier, Campbell, who offloaded BC Rail did so after it was a plank in his election campaign to not privatize it; -it was direct betrayal of his constituents. Despite all, we remain a healthy backwater for dissent, though our nation is now unrecognizable to us. This is what "democracy" as economic rape looks like. 
Correction: this is what it actually looks like…
You must install Adobe Flash to view this content.
(Hint: It's how the (much bigger) neighbour/trading partner wants it. They're not happy about this one, however, i.e., when untrammelled resource whoredom up north might actually affect them.)
-Since you are likely woefully ignorant of what a tailings "pond" breach actually means and how easily an Athabasca flood could pull this off (permanently polluting the second largest watershed in all of North America by way of tributary), - we can now provide you a live existential test tube situation unfolding in real time (reel time for the inhabitants) in the truly pristine and wondrous Cariboo region of Beautiful British Columbia, that existential oxymoron that performs a mask for its own destruction, so grab a front row seat. This "spill" has been deliberately siphoned into Quesnel Lake, which happens to feed a tributary of the largest watershed in British Columbia, (the Fraser), comprising a full 60 plus percent of its land base, -right before spawning season was to take place in one of the most prolific salmon runs in the entire country (or North America for that matter). The Quesnel Lake run is forecast to be responsible for 25% of the Fraser's Sockeye run this year (source depending, and watch those, as not even the government trusts itself with this one). Imperial Metals has not even blocked the breach, it's still flowing.

We thank the sponsors and midwives directly responsible for transforming this into hell, starting with this CEO (who received the usual PR BJ from Forbes), -with his BS PR claim the water tested as drinkable, (when it was actually tested the same day as the spill occurred, and the sediments are the larger, permanent long term issue –you can scroll down for some contents). Yer CEO is a dilbit billionaire, the fourteenth richest Canadian in fact (his ranking by Forbes). He made the bulk of his wealth on tar sands open mines (for which the tailings ponds were so vast as to comprise 176 square km three years ago). This is additionally cut 30% with fracked gas (how the term "diluted bitumen" is arrived at) for export to the US. The demand isn't small; nor are the consequences.

-Doesn't it suck to be right (as in right on the money) ahead of time, as we stand witness the worst mine tailings spill in Canadian history? (Oh, check that, it's now "the largest tailings pond disaster of its kind in history".)
As per the above, Murray Edwards swooped in like a vulture of benevolence right when the BC Liberals were eclipsed in the polls by the NDP "socialists" who reigned the '90's, with a million dollar funding campaign luncheon hosted in Calgary, Alberta. A quote from Canada's Financial Post:
"When British Columbia's Liberal Premier, Christy Clark, was in danger of losing last spring's election, Edwards helped sponsor a fundraiser in Calgary; he advised Prime Minister Stephen Harper on the controversial takeover last year of Nexen Inc. by China's CNOOC Ltd. and on future foreign investment by state-owned enterprises; he was instrumental in clenching a deal with Jean Chretien in 2003 that limited the oil sands' financial exposure to the Kyoto Accord on greenhouse gas emissions. In 2008, he co-hosted a tour of the oil sands for Warren Buffet, one of U.S. President Barack Obama's top advisors, who has since invested in oil sands producers Suncor Energy Inc. and Exxon Mobil Corp."
As referenced above, funding from Alberta based energy corpos amounted to a form of foreign intervention to ensure the Liberals' success in BC's last provincial election. It was already clear whose bread was going to be buttered, based on the funding.  It carries, however, a very toxic rather infinite price tag. (The unwelcome spectre of what really happens thanks to neoliberal deregulation opined and enshrined as the "virtue" of the "free market".) And oh yes, it turns out our illegally polluting billionaire tar babies and your, er, philanthropists are thick as thieves.
The tailings pond was known by the BC Ministry of Environment to be holding more toxic water than legally permitted, yet the BC Liberals allowed Imperial Metals to ramp up production, merely writing them warning letters on the subject. Imperial Metals was warned by the provincial government five times leading up to this breach of precisely this danger. (The government knew the pond was illegal; all they did was write some letters; furthermore, this excess was allowed, apparently, without any insurance.) Imperial Mines was also warned internally; (when the engineers who designed the dam quit the task, there's a problem). They were also warned by an independent study over three years ago. This amounts to being warned from all possible fronts. Imperial Mines did nothing but escalate the danger, and the reigning government let them.
Their deliberate delinquency has instead been well rewarded with what was already a HarperCon stealth tactic, the turning of a succession of Canada's pristine lakes into designated toxic waste zones, i.e., tailings' ponds. Harper (he's in no way responsible, oh no!) has likely additionally gutted the Fisheries Act in no small part for the sake of this "dispensation". Imperial Metals was granted two lakes for personal tailings ponds (including one feeding into BC's largest watershed, the Fraser), by virtue of having already destroyed them.
The only assertiveness the neoliberal provincial government proved capable of worked in the way of classic enablers of the deadliest form of debilitating psychosis. They are not enablers of an individual death, say by drug addiction. They're enablers of planetary death; -of destruction that could have been easily avoided, -and they did it to help billionaires get richer than they would ever need by needlessly killing it. These are the sort of "friends" that feed south side share profits of hedge fund managers, and give them tours of the tar sands.
This is not an inherent price of doing business. It is a matter of gross mismanagement.
Neo-liberals exist merely as the final betrayal of the whole of humanity (erk! –double that), the last coup of empire, because they fulfill the propaganda form of a fictional opposition to obliterate the reality that there is a real opposition to militarism, fascism, unsustainability and unbridled corporate cronyism. As such they are Orwellian unreality at its lethal best, possessed of one agenda. We have our last dirge of the plutocrats set upon preventing humanity ever reforming, directing or even saving itself, who are set on the self-reinforcing belief that financial elites are still more fit to run us (in the face of opposite results) than actual governance, impartiality, egalitarianism, democracy, sustainability and meritocracy. (Thanks to the bias of their self-reinforcing systems –if it wasn't merely self-reinforcing, it would not need to deliberately bankrupt BC Hydro to reinforce its self-belief in the beauty of "governance" by a completely unimpeded "free market".) Let us thank them on our knees for their paternalistic charity, dividends which could more easily arise just from regulating against their tax havens  -and ta-da-dum, there is your self-justifying panacea of philanthropy. The immense nature of their dispensation only arose through the untrammeled exploitation of their uninsured workers, monopolization, the divestment of governments and customers (as taxpayers, -both ways), wholesale divestiture of the planet and the flagrant exploitation of (deliberately) collapsed economies. Forward they charge to show us how the world is better run through their dispensation, no matter how wrong their individual conclusions may prove (with studies proving the opposite, but plutocracy's arrival at self-reinforcing conclusions are oh so much more sound than arriving at conclusions through research). Philanthropy is the tropism they haul up to excuse the level of social inequity employing tax evasion that is the basis of their existence, which is so utterly vast that it would, in itself, solve world poverty, or fund the entire transition to clean energy. 
Am I saying they shouldn't have, and it's not kudos to them for trying? -Course not! I understand corporate disbursement actually works. (But Oops? –And there's quite a running debate…all with the best of intentions, the Gates may be doubling African women's HIV risk with their charity birth control? –Really?) -Even without 47,500 possible OPV related deaths, the bottom line structure of capitalism running the whole affair exhibits the self-same self-defeating incapacity to furnish a future (execute any form of actual governance or develop real institutions to do so, -just throw money at it, -funny how such initiatives prove to be such a tax-payer supported corporate windfall in the same token) as it continues to subsist on relative impoverishment (wholesale denigration of the environment to the public's cost). The lowest common denominator always rules, why they're off-shore. But it doesn't justify.
One might have thought that the potential dangers of oral polio vaccine would be something well within the realm of your comprehension (not to mention the Depo Provera –HIV connect. (-Oh, luverly.)), seeing as there was already some considered scrutiny. If it's not allowed in the western world because of health risks, then why are they using it elsewhere-? –That book caused an absolute flurry of reaction, didn't it? What about this sort of social distortion that ignores basic health infrastructure at human expense? The results are mixed, and successful when not ruled by the market.
If these paragons of corporate society really believed in equity, they'd pay adequately for labor and wouldn't just seek adequate working conditions on the basis of perceived outrage of the consumer public, and tax evasion wouldn't be a virtue. Incidentally, how come I find the same reporter at Forbes defending Apple and Foxconn is the exact same reporter defending child porn for the sake of minor on minor social media sexual relations (one of the strongest current vehicles for male on female sexual abuse/social blackmail in western society). Here's your Elevation investment, Forbes, falling over itself to defend the unlimited dissemination of sexual abuse with unlimited access; (sanctioning child rape (the only way these pictures come into existence) for the sake of "free speech" among minors, blithely unconscious that this is the prime fount of sexual abuse in western society at present, with an existing death toll. In a nutshell, it is precisely the context he sets about defending where protections are needed; that is where this becomes a matter of lives. The argument is also utter hogwash, as if no discretion or dispensation rests in the ability of the courts, where these issues actually are determined. (Disgust in the meantime is absolute, –especially since Forbes sexism bias as a counter fount to human progress is indicated to be historic; -how deluded are you when it comes to the nature of your investments?)
As we're on a momentary Forbes bash, here's a loverly propaganda piece thrown into adequate relief in light of its utter absurdity were there any comparison of the insane disparity of funding on either side of California's Prop 37. (Who bought the presses?) -You deserve your losses on any investment this mentally antiquated (read maladjusted, -Very). But it provides a ready indicator of the internalized biases of you and your friends. (-Oops! –Wrong, but never wrong for the right reasons. I think my own internal bias, displayed in facets here, happens to be far more sound.) Your investment is nothing more than a blowjob for the über rich, a mass massaging personal ego trip on a pay roll, under the masquerade of journalism; to get this pass it has to provide enough of it. This is the modern nature of propaganda in a realm of relative diminishing returns, media outlet depending, (but when the likes of Kristof does this twice over in the NYT, he provides an even better service than outlets such as yours). Forbes however did get this one right: Canada sells the crude at (what is naturally) a fire sale price in order to buy back the product at much greater expense as gas. This is the nature of the dynamics structured into Canada's economy that make for the allusion of resource whoredom (though this sort of thing helps). They had to say this to counter Greg Palast.
Examination is needful when the foundations of the astronomically wealthy are the only cash cow left (why), and this is how the game is played. Moreover this is how the game has always been played, as it kills two birds with one stone, providing the saintly garb of charity to cloak their actions, -while the Gates Foundation in itself is considered a form of tax evasion.
The notion of philanthropy as colonization through foundation funding of NGOs is a fully viable argument. (Um, the Rumsfeld Foundation.) Such funding is inherently contaminated if not defined by rewarding those whose policies best serve those running the foundations, when there is the hope of neutrality vested in governance and the neutral dispensation of these monies if they were actually taxed. So in reality this is protracted and deliberate divestment of democratic governance; moreover these funding channels exist to define the public discourseon all matters for attenuation and containment (to the exact same end –Ooh, Miami). –And that's when they're not involved in overturning countries by advocating intervention in internal wars that are in fact orchestrated insurrections, to conceal that illegal intervention in such constitutes an illegal act of aggression in warfare, the oxymoron of humanitarian interventionism. (You are so obsequiously silent on so many, many things.) All of this effort exists to conceal the root cause of inequity (in terms of both cause/effect), with this overall result, assimilation of the self-same denial in the opposition, with the end result of opposition as enabler (which unhappily is where you've come to fall in my regard). This again is the effect of the neo-liberal façade which makes it the crux; what will make it the biggest component in the wholesale destruction of human life and our life-support in hindsight, the very quality of life. Naomi Klein's position at 350.org is the very co-opting of reality based dissent. You ought to consider, then, what level of denial Canada has to enforce at home by the suppression of science to maintain its existing unreality as some sort of status quo.
Which bring us to the question, what will be the legacy of the fact that you are co-opted? (The essay's end will well prove.) What legacies will you really leave in Africa? -Especially in the face of this danger's ability to eclipse any present effort and the denial invested in privilege, which only exists in order to furnish the consumers necessary to feed an economy predicated on maintaining this total corporate monopoly on energy? This is the most resplendent indicator of totalitarian fascism running the global gong show; such realization is contingent on total inequity. You are co-opted in terms of your enabling, lending your "good face", which happened to be one of the only benefits of your article in Time on the matter; couched as it was right beside a glowing (much longer) profile of Netanyahu; a xenophobic war criminal basked in the glow of a Nobel peace nominee and was somehow normalized in the public perception. (I use "xenophobe" because I can't arrive at the more insidious true definition when xenophobia deliberately eradicates the indigenous population, in order to replace it with one's self.) Yesiree, it's TIME for some propaganda. As for your vaunted concern about Africa, it's curious you make practically no reference to the causalities or currency of continental warfare, the preeminent factor in its destruction; your silence on the destabilization of North Africa in terms of implication is stunning. (-Let's not discuss who the real killers have been, who the arms exporters are, or that the Euro-western model is still ongoing in terms of enactment within the existential framework of its horrific colonial legacies. (oh snap.) Nor do I find you capable of opining on your latest endorsement in interviews, the public-private partnerships designed to put Big Ag in Africa (your AGRA endorsement). No one wants to talk about it, especially you.
Whom do these public-private partnerships serve? The answer is if it wasn't far more in the corporate direction, they wouldn't exist. (Here your friend Gates pops up again in a failed dairy business attempt in Kenya; it seems the first interest foreign dairy business has is banning raw milk, eh?) -I expect they'll screw it over completely, just the way they've screwed us and Percy Schmeiser. Africa will suffer the same fate as India (-a suicide tidal wave due to sky-rocketing costs of terminator seeds and the battery of pesticides Monsanto's GM are tooled for (oh, goody)). -Ask US farmers about their legacy.  Ask the bees big ag intends to replace. (-Ah, Florida. -Oh, Canada. Oh gad, it's getting priceless.) And yes I know reports about farmers' suicides India are gravely contested to the extent of having been declared debunked; the problem is they'd have to be when even Prince Charles was weighing in. (Note GM's main problem in its tooling for the herbicide/pesticide combo, superbugs/superweeds, is not debunked. –Nor is the price ramping, which is a replicated pattern in the Third World. Nor is the question of transgenic pollution through wind-blown/honeybee pollination. And we're not even addressing the permeation of pesticides in the biosphere. Ask Argentina, BTW.)
In Canada Monsanto's hired "private investigators" (who invaded farmer's private property to gain samples, and used the usual intimidation tactics) were mainly ex-RCMP. The thing is, if I'm at home, and looking at two completely opposing narratives about Percy Schmeiser, given my own direct experience of the RCMP feeding foreign multinational corporations (they didn't have to be foreign) information on Canadian nationals (and otherwise) who were environmental protesters in 1991, and what I witnessed of how low and dirty the RCMP was prepared to play in that little contest at corporate behest (that a national police force would perform in this manner is institutionalized fascism - Chapter 7), then which of the parties am I going to believe, especially when it's public knowledge Monsanto has been deliberately stealth bombing the web with counter PR by hired flacks at every level? Obviously I'm more likely, based on my own personal experience with the RCMP, to believe the farmer. -Which begs more questioning about what's really going on in India and elsewhere; a country where 2% of landowners own 80% of the land? –Perfect! –But not perfect enough.  The doubt is based on the level of institutional abuse corporate multinationals need in order to simply function at a mandated and satisfactory shareholder profit, the more essential problem being that in order to profit in a manner that isn't inhibited by any notion of sustainability or future use, or not inhibiting human health and the gene pool through chemical pollution, corporate dictate through fascism was and is inherent. This is how "business" is really done; so why can't you see that these are the stats of land distribution that are optimal for BIG Ag, and duly recognize the implication?
My personal experience of the RCMP in reality disturbingly dovetails with a number of (really disturbing) ancillary facts -like this one. -Loverly. - Given how sexist 'tis the RCMP (-Um, that 300 strong class-action lawsuit), I can hardly fathom what it takes to make one an "ex", can you?  This is Vancouver, (BC), which is alleged to have one of the highest rates of child prostitution in the world, in a nation where sexual trafficking is 90% domestic in origin and run by criminal syndicates (for export as well, where the paradigm cross-border is the same); its fodder of choice is disproportionately indigenous women. (-Not to mention there's a judge, -and so on.) The system has been entrenched by criminalizing the juvenile prostitutes rather than their pimps/johns; the victims are too afraid to testify or seek help when they're the ones being criminalized. –Neocon=lib Hell, -welcome.  –The downtrodden say those 69 (-49, 26, 20, no one's really counting) dead women were all sacrificed for snuff films for the Hells Angels and this practice was permitted to continue for as long as humanly possible. That indicates a lot of power, read complicity, which had to have been based on consumer demand in high (enough) places (to pay, say, a quarter mil a pop); certainly law enforcement dragged their feet on this one for quite some time. (Incidentally, as per Betty, the UN did respond. The ruling government squelched. They're very sophisticated in doing so. –Indeed.) We are offered the blithe pretense that there are no vestiges of colonialism when these murders were not stopped (when officialdom blamed racial bias for this) and the last residential school closed in 1996. Not to mention we are on the verge of yet another resource/land contest that will involve mass protest of Native tribes over Northern Gateway pipeline in BC, where there are no existing land treaties (it's not ceded territory). Those are the crucibles where denial must be ironclad.
Speaking of which, the Yahoo article on the Truth and Reconciliation March looks like it has an ulterior motive, basically to disseminate a deceptively low established death toll as if it were the total (-deaths were not reported after 1917 for example, and the figures were systematically suppressed), for a school system that existed for over one hundred years; schools where forced mandatory attendance was ratified separating children from their families (RCMP enforced). They managed to attain annual death rates of over 60% by placing students infected with tuberculosis with uninfected students and did this for over 50 years, forcing the ill suffering children to still attend classes. In Canada this trend was historic; rather than going to war the eastern indigenous nations of Canada were decimated by smallpox, (traded on deliberately infested blankets), reduced to only 10% of their pre-contact numbers.
Corruption is nigh predictable in Canada; it is so omnipresent nothing is beyond implausibility any more. (It's now confirmed.)The concentration of corrupt companies in Canada exists because corruption is what's necessary to facilitate wholesale profiteering by wholesale exploitation of resources (they specialize in this world wide); resource rape as opposed to use is what allows the centrifugal upsurge of disproportionate wealth in a global fascist plutocracy; furthermore the US standard of "living" is predicated on resource rape as opposed to use. Inequity simply wouldn't exist any other way. It has to be enforced, which is what will happen when this sort of orchestration doesn't work. (They're merely maneuvering for court.) This is the sort of accompanying ugliness that is aiding and abetting the concerted public oppression needed to run the US's resource hinterland of Canada into the ground in order to maintain shareholder profit and meeting foreign "consumer demand" as the sole defining mechanisms of its economy, basically obliteration in slow motion.
It is institutionalized in the RCMP. Its institutionalization of BDSM (via membership) and sexism (by systematically victimizing the female members of the force) is in companionable company with the nature of resource rape as "capitalism", the same institution being the Canadian government's thug arm "option" that historically suppressed striking dockworkers (as the Canadian Government orchestrated the suppression by bringing a US gangster into the country illegally to implement it (at whose behest -?), with his scabs being supplied with sawed-off shotguns). The song remains the same, apparently. This "tradition" has transferred to environmentalists and the G20 and Idle No More (not to mention just about everybody); that's when they're not just free-lancing to suppress farmers. Talk about RCMP "back-up". It doesn't get more hand in glove than this. You want to know how deeply targeted this is at the local level? Well, Good Lord! Neo-liberalism capitalizing on "terror" (the coinage of "security theatre" complete with RCMP bombers colluding with gas companies to instill residential fear of "eco-terror"); it don't get better than this! Corruption's little tropes always need a fount of fear to buttress their leadership; they're in no way qualified. It's always quite remarkable just who's capitalizing on acts of terror: the answer is never the terrorists: it's authoritarianism.
Voila; there is your enforcement arm ramming US anti-terrorism legislation/policy down Canada's collective throat. (This was to ratify, domestically, a legal façade permitting "extraordinary rendition" of Canadian citizens by the US to be tortured overseas; Syria was an asset in that regard.) The attendant information arm (CSEC) specializes in information control as oppression (categorizing environmental activism as terrorism), and is sophisticated enough to furnish the NSA (including, apparently, the spying on Brazil, -ha-ha. –That's one arena we're never short on cash, -despite having adopted the neo-lib/con taxation social divestment tactics.) This makes the labeling of environmental activism as terrorism that must be combated as terrorism a uniquely Canadian export; it's training Canadian corporations actually export to police forces in the US. This equivocation was the domestic end game goal of the establishment of the "war on terror" and its contingency of unwarranted surveillance. These tactics for resource extraction by Canadian energy and mining corporations constitute CSEC's international employ in spying on other nations to document their internal activism for the sake of suppression, -which means the agency's use is now openly, internationally fascist. It must be recognized that where environmentalism must be extirpated (on the fabricated pretext of 'terrorism") for the sake of the US market is in Canada (since Canada is the greatest energy provider and resource source for the US). In addition thanks to the fact that the NSA implicitly provided CSEC with marching orders in the case of spying on the Energy and Mines Ministry of Brazil, Canada is also the fulcrum for corporate espionage by federal agencies for the sake of US energy and resource extraction corporate sectors internationally as well as providing this service to their own corporations.  The model of NSA surveillance is fascist, as is the employ of its affiliates in the UK.
On the other hand, Canada more often than not ends up being ground zero in the capitalist there is "no alternative" agenda; being next door to the reigning hegemony compels the behemoth to perform constant, protracted erasure of any differences, where viable especially, since when thrown into any relief, the structures of hegemony fail utterly when judged by any real comparison. The most ready indication of the system's inherent pathology could well be how much you cannot stand any differences in your "best friends", and how profoundly you must manipulate them. Canada provides an excellent case study in such dynamics, the price being its very nationhood. (If you don't think the present ruling party's impetus was expressly to remake Canada in the US image for the sake of rendering us their personal resource whore (for the definition, look at his "trade deals"), I have a name for you: Tom Flanagan. –He's still happily at it; PR BJ furnished by the personal right wing news rag fief of an ex-con; a baptism in redacted memory after Flanagan's disgraced exile due to his view that child porn consumers shouldn't face jail time. Not redacted in the sense that Conrad defended Flanagan personally. –Only in Canada, eh? With friends like these, who needs enemies? It is the country's elite who are set on dismantling the nation. (There's more to these connects, but to find those I'll force you to read some more lurid his-story. -Virtual Easter egg hunt.))
This brings us back 'round to the broader issue, the necessary accompanying institutional abuse of authority (and the nature of social sanction within the realms of power) that must provide enforcement in the maintenance of artificial colonial "relationships", because it's interesting how the institutional reflections permute and remain the same, how the enforcement of a "relationship" between nation states that actually exhibits the self-same dynamics of a domestic abuser confining a partner (to exploit her resources in this instance by suppressing her domestic population internally) is enforced by indicators of the self-same patterns within.
In other words, kindly take a look at some other "aspects" of the RCMP, who remain steadfastly entrenched in their "tradition". There's the RCMP's accompanying "treatment" of Ashley Smith (one of 17 transfers in eleven months, a 30 day sentence compounding to 4 years). -How "disgraced" does this force have to get, as they were also in charge of investigating all three of these social media sexual extortion and/or gang rape cases involving teenage girls (all involving Facebook), none resulting in adequate prosecution, with two resulting suicides, whereas Anonymous was capable of sifting and presenting digital evidence long after one case was "cold" (and only public opprobrium and investigation on this scale created incentive did authorities deign to re-examine the case).
Is this any surprise given their "handling" of the biggest serial murder case of (mainly First Nations) women in Canadian history: that RCMP members would sooner watch porn on duty than investigate a string of disappearances of women on the lower East Side, while their female officers were laid low by a swath of addiction and stress disorders relating to PTSD due to unremitting on the job misogyny, and one of their BDSM officers was the individual who is alleged to have produced the "informant" in the Pickton serial murder case, whose illegal booze joint was allegedly frequented by one of their civilian employees? (She is alleged by the prosecuting attorney to have had photographic evidence; the parties were allegedly attended by Hells Angels, the Downtown Eastside sex workers, and sometimes politicians and members of the local RCMP/police –puts whole new spins on the moniker "Piggy Palace", -doesn't it? The real sadistic joke behind the name; that the bone meal made of all those women's bodies was fed to the farm pigs is beyond the horror of contemplation.) -Is this fiction or reality?!? And the RCMP leaped to BDSM Officer's defense, the prosecuting attorney's under attack, and BDSM Officer's still got his day job? Note that the officer who first outed the RCMP's systemic misogyny, who was also on the missing person's task force, is being eliminated. Stand alone, defending BDSM officer is defensible, but if you're comparing who's been institutionally punished for standing up to institutional sex discrimination (and that the number is not just one but many female RCMP), vs. who's being defended, (and that this trails back to his turning up an informant in the Pickford case), it's the broader context in which this exists that utterly reeks, especially when you put this together with a hand-cuffed stabbing victim running off Pickton's farm in 1997 (that wasn't prosecuted despite a prior sexual assault, plus Galliford's et al's allegation there was enough to nab him again in 1999; his arrest was in 2002, after he'd committed an additional 14 murders); -then what have you got?
-Could the odiferous circumstances get any worse than a downgrade of said serial murderer's charges to second degree murder due to what must have been accomplice involvement, which led to no investigation of the implication this was only carried out with accomplices, no subsequent indictments, although it got him off? Could open misogyny be any more institutionalized and enforced than this? The need for centralization and amalgamation into a singular Vancouver police force (inter-force communication) simply doesn't account for it all; certainly not the lack of a just outcome thanks to lack of investigation, which renders the whole matter damningly suspect. If there were accomplices and this is what dropped his charge to second degree and likely dropped 20 of his murder charges (leaving six, when he himself attested he'd killed 49), the investigation should have been ongoing. No inquiry there; and look whose attorneys got funded.
Oh, but it does get worse. The RCMP have actually been accused of raping and battering indigenous women themselves by Human Rights Watch, and again appear to have closed ranks. As for media on the matter, compare and contrast; is a picture worth a thousand words? Could you tailor an article any more divorced of its content in reality, a form of propaganda in itself? (We're looking at two techniques here but one is more truthful.)
If this is the institution of national police enforcement, what on earth do you think is happening in all their other realms of enforcement? –Care to guess? Care to guess why Monsanto likes 'em best? -I dunno; -is its prime recruitment capacity also attributable to the level of institutional sociopathy? (Ya think!?! –I know but the exposé is interesting.)
Can you not see a thread of connect between the primordial drive to control females at the level of procreation, and utterly abuse them for existing in this capacity (manifest in the serial dismemberment of women the RCMP and local police neglected to even stop), and the patriarchal institutional corporate desire to gain monopolistic control over humanity through what feeds them by terminating the capacity to ever reproduce in their patent owned seed? Or that the effort to define Canada's nationhood as a resource whore servicing corporate fascism (who also exists to thrive on such exploitation elsewhere, consider our international mining record) is reflected in the white man's disproportionate, institutionalized sexual abuse and exploitation of Canada's indigenous women, to the extent of allowing them to be serially murdered in Vancouver for the sadistic gratification of such men for years on end? (When Anonymous takes up the case, that's when you know neglect is in motion.)
Do you need these relations to be a little more direct? (This has gone to the UN as well. –Wonder why?) Stats showing how violence against women and prostitution sky-rocket around these male resource work camps (tar sands included), plummeting northern communities, are readily available (we're now into analyzing the demographics). I say "patriarchal institutional corporate desire" because patriarchy was instituted religiously so that males gained utter control over the female aspect of reproduction by subjecting them to males, and this is precisely the same logistical control being applied to food crops in terms of eliminating procreation, and to the wholesale exploitation of natural resources, as it is the most ultimate form of finitude or finite control being exacted over all of creation by its wholesale destruction. As such it is the ultimate inversion of procreation, i.e., life itself, for the expression that it defines as the ultimate form of power is based on cataclysmic reduction rather than creation. The victory of elimination in all these instances is the same, as appears to be its prototypical accompanying adjunct of social tyranny (which paradoxically makes a crap load exploiting legal backwaters for their natural resources, gratis). Yet this is one of the corporate interests you've just let into Africa. Without the success of protracted opposition, they'd rob Canadians of their own drinking water during drought conditions. -Not to mention, there's the much more dire question of California?
Yea, oh f***, she reads. Are you too blind to recognize the implication of windblown terminator seeds cross-pollinating, the fertilization of their terminator gene hampering, potentially ending, and permanently genetically polluting indigenous crops? Is that not the most essential blasphemy you can contrive against God and the very nature of creation? –Now that you're aware of some of your bedfellows by six degrees of separation, are you feeling comfortable? -I sure as hell wouldn't.
-But I've never actually blamed capitalism (or the introduction of GM). Post failure, however, its indictment will become absolutely unarguable. I blame the misplaced utter fallacy that a mere economic mechanism got substituted for ideology and thereby actually considered a form of regulating or developing society, when this is impossible. This has never been put in more ridiculous relief than the by the corporate development of GM for "agriculture" as a back-assed crude servicing of corporate monopoly through the basic crudity of patent law to utterly screw over humanity by conferring the ownership of entire species of food strains due to the tweaking of a single gene (or a few, -no difference; it is blasphemy against God and creation and life to possess the hubris that tweaking means you own it, or you can just own genes outright, even if you don't tweak), -especially when all this was done just to ramp up sales in their pre-existent chemical industry which has its very basis in the creation of poisons. The farcical dictatorship of US patent law merely for profit was put on exhibit in the crude but wretchedly effective attempts to hijack rice crops; blatant, protracted biopiracy is corporate GM's prima facie raison d'être. (The scoop with launching against Percy Schmeiser, which started with GM contaminated canola in a drainage ditch on his property, is that by claiming patent infringement, Monsanto were able to confiscate his personal canola seed stock that was the result of 50 years of breeding, obviously never returned, literally a theft of technology from someone who'd never purchased their seed at all.) That this tropism is only hauled up when opposition begins to affect share price is another ready indicator; "Golden Rice" has not moved forward since its hail as the GM miracle for human health over a decade ago, giving it a reigning status as no more than PR panacea, while solutions that are not marketable or possess the danger of any return to natural equity remain steadfastly ignored.
Again, distrust is rooted in the fact the all GM research is incentivized and directed by market dictates, the existing track record. No one doing good would need ex-RCMP on their payroll invading crops for samples and going door to door intimidating farmers, or would go about bombing farmer's crops (property) from the air, making crop circles with the company pesticides (so lethal they inherently kill normal crops), just in order to see if all the plants would die or not (so they can take the farmers to court if they don't all die, as plants that don't expire mean patent infringement). They certainly wouldn't have the need to hire Blackwater XE to infiltrate resistant groups; nor would this be their company of choice. Not to mention their efforts to counter the vitriol and distrust on the world wide web have all the markings of now common astro-turf corporate counter PR campaigns, making the whole matter of the rash of published counter-arguments appear damningly suspect, as the media has always worked in tandem in this manner with such corporate campaigns, being owned by them. But they are also engaged in outright fascism; they consider it a viable "option" wherever opportunity provides. Because it is a system designed to ultimately empower them to the ultimate power, it is how they choose to define society, for it is naturally to their optimum benefit. Why would viable marketing of a viable product have any need to resort to fascism (legislating the market to their benefit) to get the job done? They try to obtain their hostage market through legislation?
That's not free market dictate (capitalism), nor is this, as the "Monsanto rider" was resuscitated in due course. -Your Forbes cipher duly weighed in, yet again. Oh, yea, poor GM Alfalfa; this issue certainly wasn't addressed by the USDA's assessment. I bet that was something the Center for Food Safety was going on about, in fact I feel assured, as I remember reading precisely these sorts of arguments accompanying petitions (in Canada, on how it could easily wipe out the ability for an organic market in alfalfa to even exist at all). The "sizable economic blow" is now GM tainted alfalfa being rejected for export. Thanks to transgenic pollution this issue is now permanent. While Forbes spends its time kicking and screaming about four years' delay and the economic pain caused, what now are the prospects? Certainly sacrificing any possibility of an organic alfalfa market in the bargain (future long term) was no problem (yes it's merely a "market issue" ; the USDA determined which market). This whole matter works in Monsanto's favour in terms of presenting farmers with no choice about attempting to produce a GM free product. As usual the target is anyone's ability to even make a choice. They spend waaay too much money and energy on that aspect to be perceived as even remotely trustworthy. Meanwhile the entire population is subject to the grand GM experiment without any controls, making the situation difficult to prove or disprove.
-As for the Round-Up "mild herbicide" bit, anything that kills a non-GM crop when you bomb it with said substance from the air (in order to take farmers to court if the crop survives, which is what Percy said was standard practice in Canada to determine patent infringement) –is not a mild herbicide. Pffhhht! –Um, Seriously? –Oh and thanks, TEDx.)
-On the beets? This report by ABC News I provided earlier appears quite balanced on the "Monsanto rider", and states precisely the opposite of Forbes, saying once purchased by farmers, the seeds are permitted to be planted no matter if the GM seed authorization by USDA has been challenged in court (it's stated by precisely whom they're bashing, naturally, but as pointed out, Forbes has already produced absolutely blatant propaganda on Prop 37). –So protracted limbo, yes. –To imply loss of harvests appears disingenuous. They just couldn't use it yet. Forbes is also guilty of publishing a realm of false blame displacement for bee colony collapse disorder by making the case it was unrelated to neonicotinoid  pesticides, by claiming bees were unaffected by these seed treatments in Canada (the Canadian government announced the opposite).
–Oh yes and, the Canadian Federal government let Monsanto conduct their own field trials on Canadian land for GM Canola, accepting their studies when GM was introduced to Canada (even though GM and non-GM in the field trials were grown side by side (oh it gets worse), rendering the hypothesis of the trials null and void. That's not objective science either; that this realm of questioning even exists lies squarely at the feet of Monsanto's corporate conduct in ram-rodding product internationally (as these trials were used as bona fide to push expansion in Japan, the US and Australia). If they didn't want to open an absolutely destroying realm of questioning, testing should have been conducted by the Canadian government, which would have at least tried to conduct bona fide field trials, and any such reproach would have been on their head. (Monsanto ran its own potato field trials in Canada as well.) -It got way too cozy a long time ago. In other words, Monsanto are purely their own problem in the realm of public perception, which is not a GM problem, it's a corporate problem, -really a corpo-fascist problem, else wise Canada would have run its own GM crop trials.
Corporations are far too short-sighted for those realms of thinking when they're resting on the ironclad legal assurance of being able to ram patent law that grants them control over living organisms up everyone's collective ass, and Obama's appointing former Monsanto Vice President Michael Taylor as the FDA's new deputy commissioner for foods (2010). (It's all so incestuous.) Not to mention they were able to get their way on stuff like bovine growth hormone, (-though not in Canada). In one tiny little slice of real life example, for excluding rBGH from their generic milk, Publix had to hire lawyers to frame a nice little caveat put on every container saying how rBGH has no adverse health effects, so the corporation could avoid being successfully sued by Monsanto (as they'd done several times to dairy outfits for labeling their milk rGBH free). I sure as hell go there go there to buy it, -in no small part because Monsanto did their damndest not to permit me a choice in the matter.
Legal enforcement to protect or entrench one's market is by definition not allowing one's self to be subject to the dictate of free-market competition (nor would you need to attack the media); it's taking to the competition with a legal crow-bar, which is precisely what they did to farmers in Canada and the US. What they tried to broker in Columbia looks like corpo-fascist dictatorship outright (and look what they just attempted with Brazil). Nobody stands up to Monsanto. (Oh lookie! -It's Hill & Knowlton, -again.)
Here's the paradigm, corporations operate on the principle of the lowest common denominator. They are subject to standards in the US, which they attack and abuse regularly. We have this track record of a realm of un-trammeled fascist tactics more befitting the mafia, apparently, or the whiff of such, in varying degrees most everywhere else (with very strong arguments that's what's running the US anyway). In other words, corporations only behave decently where sufficiently regulated by government, where governments are sufficiently empowered by active democracy and regulation to possess a spine, and not supine to the oligarchy. Only governing by governance works; when corporations have dominance, it's a fascist domineered crapshoot: people are eradicated off the land, they start conveniently dying, or getting death threats, (and judges get fired). This is purely a corporate problem corporatism has with its own self (the rate of killing amounts to one environmental activist per week)- precisely the way the RCMP as an institution in deviation is purely a problem of its own self (as the RCMP's primary mandate from the government (for decades) was forcibly removing children from their families, institutional deviation is about all you can expect). Where the real concourse of Truth & Reconciliation needs to take place is between the government/ reinforcement arm RCMP, and indigenous peoples. The RCMP's mandate is to preserve Canadian civic society and to protect Canadians, which is in some pretty serious need of integration. Otherwise the end result is just a bunch of enabling of the self -same variants on deviation in bodies of reigning authority and power at the institutional level maintained in the interest of repression, buttressed by denial. They reflect on humanity and act as humans individually do. Therein lies the danger.
Put a bunch of human institutional deviations that provide a ready thriving climate for real individual deviants within them, put them together working in concert, and what have you got? It puts us back to the question: why in hell would you endorse unleashing a corporation like this within this sort of matrix (and with such a dark constellation as its own historical matrix) on a continent as presently vulnerable as Africa?
In reality the crudest form of anarchy is the unbridled free-market (letting fascism run the world), when mere money dictates; the crudeness of the dictation is cruelty beyond measure or comprehension (when it decides warfare, but it has already declared total war on the earth); we are beginning to witness the fruits. The definition of wholly realized, unfettered free market neo-liberal "capitalism" is full-fledged fascism exploiting the crueler dispensations of anarchy. If you think about it, the philanthropy of the elite as a primary means of dispensation, as the means of lessening inequality and so defining society (coupled with the contrived absence or compression of impartial governmental safety nets and regulation), happens to be plutocracy (inextricably wed to fascism); that's the real definition even when it happens to be benevolent. Monarchy by Divine right was equally capable of full, very effective benevolence; that has never validated the structure of choice for governance. Falling for it is a fallacy, even though charitable philanthropy is a tremendous virtue which absolutely should exist.
Incredible distortions are introduced when it is considered a viable means to run the world in the champagne glass model economy, the same distortions introduced when we opine capitalism as capable of somehow running the entire gong show (as if being run by the chaos system of capitalism being constantly money wrenched by plutocrats through its various loop-holes designed for such would ever actually work, i.e., pure total economic anarchism for the world (that's what completely unregulated capitalism is by definition), while they exist entirely above the fray). These are the real anarchists, the economic anarchists dubbed "neo-liberals" (economy being the most pivotal structure in which you could introduce total anarchy), except they're absolute hypocrites when it comes to self-perpetuation and absolute insulation of the plutocracy from their own economic consequences. The same absolute failure as a means of defining society goes for technocracy. (And there yer man, Gates, pops up again, so I guess being a multi-billionaire many times over who knows how to redefine his workers in terms of temp labour and whose reigning proficiency is the development of the world's most monopolistic corporation means he's the perfect guy to solve world hunger, eh? -Certainly it's not for those who are experts in the field to launch or consider.) Technology, while very defining of culture is the commodification of our lives, it is absent of governance. It is another reigning panacea we rely on to somehow in the future save us, no less or more theoretically possible than grasping at straws as we defeat innovation for the contrived "maintenance" of the economic status quo for the sake of those same plutocrats whose only dictate is self-interest in self-perpetuation. It is the plutocrats who pave the way for authoritarianism; (technocracy also services). -And yes, no one bothered to suggest banning financial speculation on food crops; that would be blasphemy. No one considers prioritizing food sovereignty over export of commodities crops to the first world (including the ludicrous matter of Valentines' roses from Ethiopia and Kenya) might be a first step in famine prevention during scarcity. (As for the "hunger games" reference, their reach has broadened considerably, and will broaden exponentially more.)
I rest the blame on fascism and enforced inequity (-interesting, what?), inequity which may have never had fuller realization than the inherently terminal nature of the so called "green revolution" (which is completely reliant on the unnatural and un-equitable divestment and distribution of hydrocarbons no other nation of the world could ever hope to emulate other than by divesting the current inequitable consumer, the US/West). Yet you seem to think, in our usual collective Eurocentrism/paternalistic egoism, Africa somehow needs this (GM) artificially hydrocarbon induced system; (examine this for a moment, it is a long term death knell to civilization in terms of life; one would have thought an individual with the lethal history of the Irish Potato famine informing their ancestry would have had a better handle on this one); you think they "need" this for the sake of the money, when to export this methodology is merely to export its hierarchy of dominance, which is the intention; they will never gain any autonomy or control over the massive energy exploitation and harnessing that the system demands, they will exist merely to pay for it. -Um.  (-Why?) It is denial to claim this can't be done (when you can pull this off in Russia's climate). AGRA merely boils down to a campaign that seeks the total corporatization of African agriculture, part and parcel of the last conquest of mankind to render fascism complete: control the food, you control the people. But that's what you get when you're being funded by the founder of Microsoft.
–Shake hands with the devil, and give your green light to the last resource rape of the last continent. Resource rape is the only form of extraction this economy is capable of.
PS: if you want proof of the absolute fallacy of belief in technology as a civilizing impetus (technocracy), that technological advancement inherently elevates and defines society for the better; a belief in the current information age you're fond of hawking for Facebook as an investor: the Egypt example (R U serious!?! OK then… let's hear it from the horse), which is basically circus poodle BS, as you know as well as I who funds the Egyptian military (and why);  it's bread, military subsidy, and circuses, mate (insurrections, social media revolution, they all seem so adroitly managed these days), but back to the front.
One only has to look back at the lethal efficacy of the printing press, how its invention effectively worked to disseminate witch burning theology, resulting in one of the most barbarous episodes in western history against innocents. Transfer that then to the explosion of open misogyny, harassment and photographed/filmed sexual abuse dissemination available today. -Nothing has in fact changed except that female sexual abuse and mutilation has been transformed into a socially acceptable spectator sport the town doesn't gather to watch in the middle of the square, sanctioned by the founding fathers and the Church. They don't have to anymore, and they don't need institutionalized patriarchy to justify it any more. They just need social media and the world wide web. It's exploding just fine.
Facebook is entirely unconcerned unless it affects advert revenue; they'll happily perform as substitute for the town square. Their definition of what constitutes a user is fascist, assigning corporate entities personhood, excluding causes or groups of persons that are not corporate financial entities.
If you're a little slow on the notion that social media technology is capable of mainstreaming open barbarism, here are annals in postcard photography we'd all just rather forget.
There is no room for passivity in this quarter when its invisible toll of women and children will prove infinitely far higher than that of the lynching, and your vaunted social media is falling on the side of the perpetrator, not just the disseminator; FB dissemination is causing death; it is the public interface for the sexual extortion of young girls, child porn, human trafficking, sex trafficking and child/minor prostitution solicitation. It already has a manifest death toll in young girls, with the untold price tag of sex trafficking. This virtual town square is even uglier than Tahrir at the same level of chaos. (Tahrir is just another example of how social media impelled revolution (the idiom is already speaking for itself in the form of neo-liberal technocratic ilk, but this is the accompanying theology of the company you keep) can commingle just fine with open sexual barbarism, but vive la revolution; this is the crowning opening of your Ted talk; when all we're talking is swaps the military ultimately controls (with women "maintained" in the barbaric basement (-children know better).)
-There are no protections in the virtual square that is Facebook (even Tahrir tries); it's not working. The inherent bias manifest in the total subjectivity of the public flagging system is utterly awe-inspiring if examined as a rather exacting reflection of the current culture as social tyranny, its inverse relation being how it is employed as an anonymous means of abuse; there is no such thing as regulation by vindictive members of the public with a legion of complaints flooding the system, spamming it to death.  More amazing still is what flies in the flood. -Nice work.
-Seems it's long overdue you registered The Dark Side.
Facebook is the virtual square; it's time to think along the lines of a virtual codified enforcement body against public abuse, and active surveillance for the sake of actively turning in clear cut human trafficking and sexual crimes (hate crime included) into law enforcement (a task that will not be performed by the lowest wage temps you can possibly come up with to exploit), unless you want to perform as just another interface facilitating human abuse and human sacrifice for all to see. The forensics on these cases should be Facebook's responsibility, not Anonymous's. Facebook should be active with authorities. How many more young female suicides, beings publicly sacrificed to prevailing present social sexual mores thanks to the rape trophyism/public shaming performed on your public FB interface; how many more of these do you "need" to get the message?
I don't see why Facebook cannot be indicted for the negligent dissemination of child porn and child abuse, do you? Are you going to wait for a brutal enough case or enough public outrage that we campaign to legislate that kind of approach? -Or just the public boycott campaign? A square this vast needs security (at the very least). Malls are smart enough to protect their investment with security, but not Facebook.
Given the surveillance we now know exists on searches and the like the only inability in stopping internet sex crime and human trafficking is passivity. As for these internet behemoths' apparent impunity and immunity as per these concerns, we know where it springs from, asshats; it's your complicity in furnishing the NSA (we're talking to you, Eric). Yes, it's because you're the providers of the humans as information fodder that supplies "All the Infrastructure a Tyrant Would [Ever] Need".  Your only predication and use of our information is for the profits to be reaped. Facebook's inertia is such it even lacks the ability to take down pages vilifying the victims after their deaths.
Neo-liberalism is merely the ideological underpinning of denial, the excuse for a complete abrogation of any civic responsibility while reaping the profits of public interface in the virtual public square, or reaping the profits of tax funded infrastructure without any contribution (while utilizing its power). The panacea of self-justification is philanthropy; there is blood on your hands in the meantime that will never be erased. -That this horrible accident might serve to bury those responsible for enforcing this state of affairs nationally is a little too much to hope for. (Incidentally, since we already know CN is cooking its books for the sake of shareholder profit by deliberately fudging its numbers on how many trains are running per day, why would their official counter in the above article (where they're failing farmers in the matter of rail transport, with the obvious scapegoat being bitumen) be in any way believable? The problem isn't simply the bumper crop when Canadian farmers are three days away from having no grain for their livestock. –This was treated as "good business" when they were dealing with a bumper crop? R U Serious!!!)
The privatization of what was once a national Canadian rail company was ultimately to profit Warren Buffet and Bill Gates, oh yes. It became "lean and mean" (CN shifting base of operation to Chicago, pretty much a hijack of a defining emblem of Canadian national history); the scapegoat rail engineer is Chicagoan, and here's who got selected to stand trial), -oh yes, on Canadian tax payer built and supported infrastructure (how nice). Do you think Warren's BNSF rail bet (hinged as it is on oil export from Canada –and Chicago now being the central hub for both CN and BNSF) –without that 28,000 percent increase in use of rail transport for oil (with the requisite increase in related rail disasters, which additionally renders this unbelievable, thanks, wankers…), -do you think his investment would even exist without the privatization campaign and linking infrastructure inroads that have been made north of the border, from which Gates is profiting directly? –Highly doubt it, and it is highly profitable. It's not like this oil is for the Canadian market. And it's not like Warren Buffet isn't the pivot upon which this whole bombs on rails roulette wheel rests.
Do you think this fraud which helped end (officially now 47) lives would have taken place if Canada still controlled its own rail infrastructure? What went by the wayside were Canadian safety protocols, for which we just paid the price in bodies, giving "lean and mean" some true definition. Moreover our institutions would have been held accountable; this is also, in our sociopathic structures, simply "Good business", escaping culpability. -Like I said, neo-liberalism at its finest; otherwise interpreted as the NA rail infrastructure hijacked by the oil industry for distribution (read the comments on the union busting and total unwillingness of all these major carriers to run these trains with more than one staff personnel, since they refuse to pay any more than that, as well as, they're still running of the old freight cars the Canadian taxpayers bankrolled, the infrastructure the Canadian taxpayers bank-rolled; they won't invest a dime themselves); Buffet is a huge player now (with BNSF's 721 safety violations since 2006, whilst attempting a federal cop-out on insurance) thanks to the profits to be made but this definition of investment of course, only means as a shareholder -profiteer. From the comments on the above link (on Bill Gates' investment):

(Hunter Harrison is definitely Gates' problem child, in the sense that that he took over CN when it was privatized; (they brought in an American). He was then rewarded with the helmsmanship of CP after that. Feel the fall out (comments especially), but the fall out on the ground is even worse.) The Canadian institution that founded the nation is now a US based corporate cutthroat engaged in fraud for Gates' personal enrichment, as that is how shareholders get paid and that is the reigning incentive. (This luverly sum of ingredients is how you arrive at a 34% share increase.) CP is still being pursued for legal liability in the Lac-Megantic disaster, whereas it was BNSF who lobbied, successfully, to reduce staffing to one engineer per train, predicating this disaster). A Canadian institution that founded the nation is now a US based corporate cutthroat engaged in fraud for Gates' personal enrichment, as that is how shareholders get paid and that is the reigning incentive. This luverly sum of ingredients is how you arrive at a 34% share increase.
Not to be outdone in the union busting/cut all staff with experience so we don't have to pay a living wage department, Buffet's BNSF is apparently responsible for strong arming the corporation that runs Chicago rail yards with the threat of termination of contract if the rail workers dare to unionize for anything above minimum wage, while simultaneously we are now clocking 88 oil by rail accidents annually. Gates and Buffet actually believe it's sound and equitable to pay those responsible for rail safety at the level of unskilled workers while shipping highly hazardous VOC's, and appear utterly incapable of 2 + 2 since it would affect "profit". Congratulations. Going US has not only transformed CN into a criminal enterprise for the sake of Gates' personal profit, but created a juggernaut reliant on the trenchant exploitation of workers at the direct cost of humanity and the environment. That's how America likes to get 'er done. 
Oh yes but, they are such great philanthropists, -aren't they?  This is the fallacy of personal testament of the odd individual "good man" employed to defend utterly sociopathic structures, which they themselves believe in. Not only is the logic of this argument (it doesn't even qualify) utterly untenable, so is their very existence in it; they exist in in a state spine-snapping incontrovertible illogic. That is the only way one can view Buffet's statement: "We don't have to have the extremes of inequality we have. The people at the bottom should be doing better", -when this is precisely this state of utterly egregious inequality Buffet's BNSF is enforcing in Chicago, -if BNSF just threatened loss of contract to rail workers at Chicago rail yards for daring to seek anything above minimum wage. The same spine-snapping state of illogic is reflected in their individual efforts at philanthropy, which only exists at their dispensation through their enforced maintenance of this level of inequity. In light of BNSF's business practices, Buffet's statement as a philanthropist amounts to no more or less than personal propaganda. When you likely represent the largest social divestment in all of human history via tax evasion/financial deregulation, what is philanthropy? -Plutocracy's Public Relations; its very metric is its conceit.
This article sums up the true nature of neoliberal philanthropic interests (that are purely oligarchical, and fascist in leaning), -because the free market ideology is inherently rooted in a principle of the ultimate primacy of self-interest as inherently "good", only producing good. What a quaint absurdity when economic structure is inherently amoral, it's like canonizing money, but of course there's great motivators for this quixotic insane merger, and they all have to do with the ultimate profanity against existence. It is all neoliberalism is capable of, more or less a fast track to hell. I have no interest in its protracted efforts at self-"validation" in getting there. Microfinance for profit actually demanded a mother prostitute her daughters to pay off her loan, as just one little merely incidental "price-tag" in this billionaire's personal effort at ideological aggrandizement, i.e., philanthropy as ideological exercise, which is merely an attempt at "financializing" self-validation (and exercise only available to billionaires, as is philanthropy, which is the best avenue to do so). This is what philanthropy is inherently reduced to by the nature of the ideology engaged in it.
–As should all of us of any remaining shred of principle, it is better for a woman to kill herself than submit to the degradations of economy utterly divorced from reality, except, of course, when it comes to her ultimate violation, -funny how that works. Western "capitalism" is in fact wholly subsistent on the total depredation of the planet in terms of the exploitation of natural capital, and must totally divorce itself from this reality to continue. It can't even figure this out at the level of gender, -let alone the Earth. Its integral relationship to its inevitable consequence belies the unbearable truth that it is, as ideology, the absolute antithesis of Christianity, -allegiance to it is allegiance to The Beast in the only real terms that matter – Earth and humanity's terms.
Or let's try this by your mechanics. You can run an intangible like Microsoft unethically for profit and ultimately rely on systemic disenfranchisement of employees by the principles of shopping for the lowest common denominator (how cheaply can you get this web tech, globally), -and get away with it. It doesn't work in real world matters like railroad infrastructure, where adequate training of employees and adequate payment ensure the total safety requirement. Isolated by a different environment, your business acumen is indeed showing. We discover that those whose only principality is to make a profit fail in every other metric in every field wherein they have no expertise, whereas the neoliberal agenda in all the philanthropy/profit demonstrations is to prove precisely the opposite, that the profit primacy of expertise is translatable anywhere. This failure is manifest in the social divestiture of the charter school system, while the systemic failure of the railways is swept under the carpet, -unless thrown into stark relief by the body count (the attendant environmental and infrastructure damages are downplayed and ignored). Only on your books does this add up, but that's the whole basis of plutocracy, -isn't it? It has no identifiers with democracy whatsoever. CN's operative boast is getting the trains to run on time at frequency, how apropos. When you must appeal to the ruling government for a series of safety exemptions that are kept classified from the public (and then forty-seven people get blown up) –it's rather interesting that the only metric is running the whole operation off the rails, - literally, at commensurate frequency. We can only wish, somewhat sentimentally, for when such ruthlessness remained in the virtual boardroom. We can hardly imagine how this can actually viably translate into genuine philanthropy. Actually it's beyond comprehension, let alone reason. Such ideological conflicts (with such an utter bastardization of intentions) –could only be stillborn if not for the money behind them. Were they examined with any intellectual rigour they would utterly collapse, just as they collapse in engaging reality, -if not for the money behind it.
Anyone exemplary in business could eradicate polio in subjecting themselves to the hire of the right phalanx of (adequately paid) expertise while fully financing their effort, i.e., with the money behind it. (The pathetic part of the notion that the philanthropy wealthy can somehow win the day (at least better than anything else) is their temerity to even flaunt such an argument, given the gross obtuseness it takes to ignore their reigning self-interest, as virtually none of the obscenely rich deign to do so in a way that would impact their wealth significantly at all.) And unfortunately, even with the best among you, your capital gains (your means) are showing as being as predatory as ever. It is just the displacement of capital from one place, to another, at one population's expense to another's gain, merely a plutocrat operating as the ultimate dispensation, -still by the divestiture of the earth to the ultimate harm of all (excepting those subject to the mercy of his dispensation), which is why philanthropy ends up being, primarily, an exercise in personal empowerment, (whereas taxed monies are inherently more neutral in their dispensation, so let's discredit governance). In the end, Bill Gates is the rational argument for the viability of plutocracy, which is what social divestiture by avoiding taxation and (when it is one of your prime means of doing so) is diverting it to your personal philanthropic dispensation (never mind just by protracted exercise of this the displacement alone); Microsoft is among the top ten performers at tax avoidance in the US.
By existing as a practical and very effective philanthropist, Gates exists as this living, walking, talking argument at its lethal, rational best. His dispensation is still ultimately predicated on killing the planet out from under us (anyone living by (or running) the bitumen transport lanes is just attendant collateral damage), but he is a "good" man (by the prevailing metric), good enough and effective enough to give the appearance of fully justifying matters, even though his 34% share profit margin at CN for 2013 is largely contingent on utterly failing to maintain the necessary railroad infrastructure to keep it out of accidents, merely a shell game in creating private monopoly out of what was once the public trust of Canadian railways that served everyone, -turned into a hedge fund racket at Canadian expense, while the country is raped from under us, and not even for our provision. His philanthropy is arising purely out of the divestment of social and earthly capital elsewhere, robbery as opposed to capital development of any sort. Whereas bitumen transport will prove an utterly failed exercise (given the EROEI) at great planetary cost (it must be cut 30% by natural gas to even move –welcome to frack heaven and water hell, at the volume of 187 billion gallons of what was formerly the pristine Athabasca (where do you think the freshwater comes from), which feeds the second largest watershed in North America. (I'm sure Americans don't even know it exists, despite being second to the Mississippi; ignorance is always bliss.) It's robbery of capital either way, ultimately for the individual self-interest of a whack of perpetually divorced from reality shareholders. But you can always attempt to qualify any level of luridness in capital gain by generating a commensurate level of philanthropy, -even (which is actually especially to) -yourself. You don't see the obviousness of that lie yet? It could never reach commensurate, not even remotely. When the structure exists purely to accrue personal wealth, it's all about the percentiles that are being made in the process of re-distribution to the very few, and giving back portions we could in no way conceivably need to live anyhow. In fact without the entrenched economic inequality that ultimately provides for the dispensation of billionaires in the false economy, (ouch) -Third World lives wouldn't come cheap enough to arrive at quantifiable success.
In the game of sums, what ultimately gets thrown into relief is the immeasurability of personal conceit. It's not Gate's basis; the severity appears in what in the end ultimately gets isolated by the structure as a pertaining drive that's exclusive to the philanthropy of the very rich, they actively wed (and are the only ones able to able to) wed their dispensation to their ideology. Whether intentionally or unintentionally, the inherent bias of philanthropy is replete in their individual choice and operation of dispensing their own money, it cannot but win in terms of the weight of operating personal bias. The disenfranchisement of the middle class (tax base) and concerted swing to philanthropy to run it all (headed by the do-gooder Gates flagship that this works) where government is too broke to do so is based on one thing, -that the oligarchy know the money coming from their hands, (rather than a viable tax base), will always serve much better to perpetually reinforce their interests –all over the globe. In their hands it is inherently weighted towards who rules in terms of wealth distribution, never whomever it happens to serve. The weight of their own wealth accumulated by their own ideological tendency inherently will preclude this, Gates notwithstanding.
When they tried to qualify self-interest as virtuous inside capitalism in an attempt to ennoble it and treat it as moral (so such extreme wealth inequity could in turn automatically vest itself as virtuous), i.e., western capitalism wed it ideologically as the "virtue" of the "free market" (therefore qualifying it as "virtuous"), they created the very inversion of love. They created the brand of ideology that makes Islamic fundamentalism's accusation of the "great Satan" something that could actually be arrived at as rationally sound. In actual fact, every Christian alive today should be recognizing the prevailing ideology they currently serve as their western beacon to the world as the absolute antithesis of their existing faith. I'm referring to the bastard wedding of Christianity to free-market capitalism and democracy as all one and the same, with democracy as the Trojan horse in that sequence (Citizens United, this has just been substituted for the distribution of wealth, if it wasn't always weighted in that direction), where Christianity has actually been substituted for a godless ideology that is its absolute inversion to clothe it in white raiment, so it's a religion functioning as Trojan for an utterly flawed, bastard ideology. Um yes, because this capitalist ideology refuses to accept it is simply a market structure; it has gone out and morally vested itself, so it is an utterly pretentious, and utterly stultifying, attempt at substitution for religion. (Too bad in its inherent amorality, it's utterly death defying-ly stupid, and could not generate more evil under the guise of stupid. Let's talk about the privatization of warfare for a second, as these latest wars prior have in fact been all about that, and apart from its collateral damage (how sick does it need to get) the implications of what that really means. With the commercialization of warfare and its becoming a commercial enterprise, you should be capable of recognizing the true beast's first steps upon the face of the earth, what you've unleashed upon the globe. They are not unsuspecting, no not at all.) Christians should at least be able to isolate where this perspective springs, instead of resorting to the crutch of perceptual dismissal that it is religious barbarism (it's not in the face of these consequences, when the whoring of the faith in investing a Godless substitute is inevitable in its results, it not only is an utter blasphemy of the faith (how they see it), it operates to utter blasphemy of the faith (which we should well be able by now to see). The  poles should not be so far in perception when Islam's primary barbarism is no more and no less than the exemplification rather than annulment of the same discriminatory barbarism that lay established in their own faith, the subjection of women, from which they're only just graduating (especially when there's a viable existing argument that the West has merely secularized it by the self-same commercialization they unleashed on warfare; then you begin to realize what a stupendous idol the West has elected to serve under the guise of "capitalism").
You should consider now what great effort every inverted fallacious ideology has made to qualify its existence, be it patriarchy or slavery, as the commensurate effort in qualifying themselves has always been inversely and directly related to their barbarity. Capitalism (unqualifiable-ly wed as virtue/ideology, when the ideological wedding is in fact fascism) has simply succeeded in divorcing itself far enough from reality (starting at the shareholder) as to never recognize its barbarity is fully adequate to kill us by killing our life support (prime fealty to self-interest enacted en masse is inherently prone to over-reach (potentially deadly in terms of finite resource base), and in fact, since in the hands of its own exponentially growing self-engineered inequity of distribution, it can over-reach so much more, it's the most suicidal of the lot, though patriarchy's contest to impel unlimited breeding by subjecting female sexuality has a rather strong argument as to its inherently terminal nature existing in extremis as well in the long run, as its destructive potential only became exponentially deadly with our apparent success in transcending nature). In actual fact, Gates' himself is one of these shareholders, isn't he? –Big time. And it's allowed him divorce himself from the glaring conflict of implication that he is a tar sands philanthropist.
Maybe Christians better ought to remember their axiom, "the wages of sin is death". When we are arriving at the finitudes of being capable of existing on Earth, this is about to get fully literal. "Free market" ideology is the elevation of the banality of an aspect of the economy to the hallowed and sacrosanct not for its virtue but its amorality, for the net benefit of what it empowers in divestment (to generate wealth by both good and evil means at the cost of another). It is clung to for its sheer power of dispossession and redistribution of wealth it allows to be codified. Both slavery and patriarchy's dividends were tremendous because they were predicated on total divestment, what was both enshrined and masked was the heinous nature of the divestment, -the collateral damage to our fellow human beings. What we are wrestling with now is planetary in scale, not just a matter of human interest.
Grow up, boys. You either assume civic responsibility, or you're not fit to run the public square, let alone exploit tax payer infrastructure you've failed to even run and maintain (other than straight into an inferno).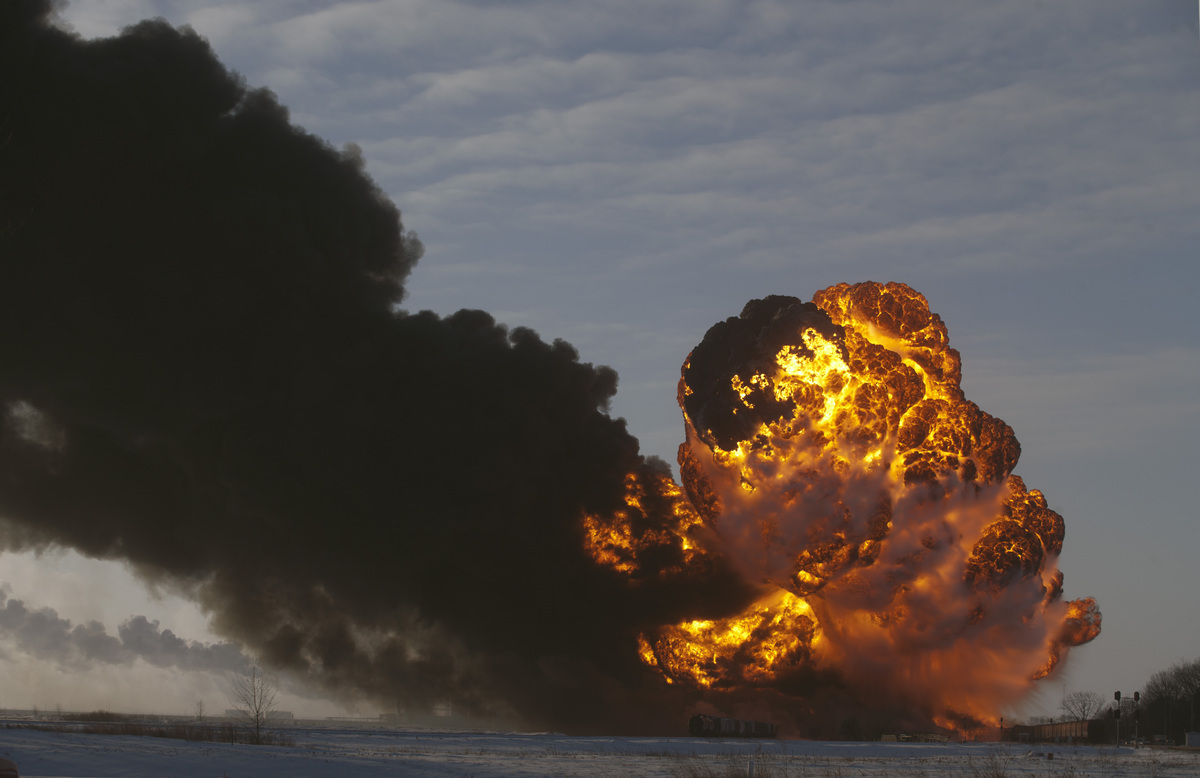 BNSF derailment of Bakken "oil" at Casselton, ND, 12/30/13
If you will not, we will accept the conclusion that a climate as predatory as the one left to fester in Beautiful BC is also your preferred form of reigning institution for the sake of maximal profits, a recipe for disaster that is ongoing and unending. It is the climate of preference that just blew sky high in Quebec.
On the FB front, sexual predation is after all extremely profitable and caters to male demand, and actually that this is the preferred climate for North American society is already irrefutable fact; women and children as victims of male sexual predation are merely rendered attendant collateral damage in the "war on terror". We'll go from there. It's all too easy really to keep counting the bodies. (After all the inundation of abuse oriented porn in combination with NSA blanket surveillance is the perfect avenue to generate a context of blackmail against anyone who rises and bucks the system, -as well as an excellent avenue to increase informants to fabricate "war on terror" cases by providing unwitting patsies. Again disgust could not be more absolute. ) It's a good thing then that this institution is possessed of the same spectrum of action that possesses humanity, or there'd be no hope at all.
Welcome, Bono, to your "dark side". You've chosen all of this in your finest friends and/or investments/endorsements; not to mention this is the inverse realm of darkness that constitutes the "war on terror" you endorse so consistently on television late night, so misleading in implication as to constitute a betrayal of the American people. Being as the "war on terror" has furnished The Patriot Act and a war on their civil liberties; it is a war against themselves. Besides being a conquest without limit that can attack anywhere on the globe, it is the device of internal oppression employed on nations throughout the western world. Your "war on terror" endorsement also implicates you (8:44) in the potential betrayal of Africa.
This link's a little vomit worthy in the sense that Forbes is slavishly loving one of its investors whilst ignoring the tried and true business of its own business, i.e., follow the money: Buffet doubled the monies of the Gates' Foundation, while in turn Gates more or less finances Bono's ONE awareness campaign. Here we have a man singing for his supper so he doesn't have to provide out of his own pocket (or grassroots membership). It's smart and oh so easy.
Oh, this has become post hence. –How nice.
The problem: philanthropy, (I don't care how stratospheric it is), will never compensate for the lifetime of human/environmental toll you exacted in your business/investment methods, especially when there's a corollary of an existing death toll (Facebook, I mean u2), and the promise of world wide planetary ecological meltdown with the capacity to wipe out so many of us "just happens" to be directly related to some of your prime, current, most profitable resource exploitation "investments". (Are economists better at bending your ear?)
Moreover this means the ONE awareness campaign exists merely as an enabler in these multi-billionaire's giant wealth fueled exercises aimed at obliterating any cognitive self-perception of their massive, glaring conflict of interest; (tacitly denied because we're oh so dedicated to the future). Thanks to its board of the insanely (mainly Western) wealthy, ONE exists in a state of gaping cognitive dissonance, because Africa is first on the sacrificial platter in this scenario; (this is the existent reality to the 2 degree global temp cap that defines 350.org's "campaign"). On an aside, was Peter invited to the wedding, or not, seeing as this self-same brand of dissent has since been aired by one of Buffet's own offspring, who runs one of his foundations. This argument is hardly solitary. -Nor is this one.
In this set of larger circumstances, "philanthropy" is merely an exercise in perpetuation and self-justification. Gates proves to be Exhibit "A"; a perfect example of the errant nature of ingrained self-perpetuation of his ideology as an exercise in self-reinforcement based on how he defines his philanthropic funding. Just one example throws into absolute relief the amplitude of its absurdity. While it fails utterly at being self-fulfilling, it in fact furnishes abusive corporatization in Africa, all while amplifying its problems. It is the exact same thing the Rockefeller Foundation did all those decades ago in launching the Green Revolution" in Mexico, which merely founded an impoverishing export economy. It just goes to show how all things remain the same; they just shift continents of conquest in corporate servicing as evisceration (via foundation funding). -What does all the good stuff amount to when this becomes the end game? Nice try, but you're surrounded by the idiom of expropriation: your agenda isn't the problem; the participants surely are, and they're furnished by the best intentions.
Bono's bought "awareness campaign" becomes just another exercise in perpetuated mass human delusion. We haven't even touched upon the utter inversion that is Monsanto's nature of existence, what Gates' investment and tacit in-roading into Africa now really implies, being his philanthropy interests equate in this instance with furnishing his own investment with continental conquest, besides being a tacit statement of what he defines as "good business". -Or how his funding (so one sided as to constitute its very existence) bought Bono and ONE's endorsement. We begin to arrive at the root: Gates' replication of the Rockefeller Foundation's "Green Revolution" history as Africa's aid sugarcoated bitter pill, sanctioned by Obama with Big Ag at the helm, with ample indicators it will prove to be much worse. It's literally capitalization on starvation as a seed/land grab, masking the western end of a multinational run on resources (and how). It is also possessed of this inverse insidious corollary: Buffet's and Gates' tars sands transport investment profits are a death knell for Africa.
This is full-fledged denial, equivalent to the belief of obtaining exoneration through the purchase of papal indulgences. By being bought, Bono's ONE has arrived at merely assisting as an enabler when it comes to assisting a level of denial in the über rich pathological enough to stake entire continents on their profit margins, while simultaneously deluding the public that they are invested (if only by a like button) in the eradication of poverty in Africa. This in itself is attenuation of the well meaning desires of the public, the castration of action. This has always been the purpose of foundation funding by the very rich, it's done in order to validate and retain their position on top.
And then a devastating rail accident happened to kill 47 people in Quebec. (-On this score it seems the tune never changes, ever since Riel; not to mention 1949.) Apparently the US corporation that is behind the injunction and RCMP attack of Canadian natives in New Brunswick is in cahoots with the exact same corporation responsible for mis-labeling the rail cars that blew up Lac-Megantic as carrying far less hazardous material than they really were. (It was going to their refinery, and no, it ain't pretty living there.) We've officially come full circle. It's what cutthroat really means. Canada really exists as America's personal resource whore at the expense of its environment and citizens; it will enforce an injunction for the sake of a US corporation working with a corporation is known to be guilty of furnishing circumstances that led to an industrial accident that slaughtered its citizens, when that corporation is the one who actively contributed to the situation by fraud. It will furnish this corporation with an injunction against Canadian protesters within six months of their contribution to mass death at the center of a Canadian town. Yet Canada will provide RCMP enforcement to the killers, -if they're Canadian billionaire oligarchs co-involved in resource exploitation with US corporations at the expense of our environment. Why, when they are being pursued by a province for damages accrued in an explosion that killed forty-seven people, are they simultaneoulsy being provided with 250 RCMP in a raid with a contingent of snipers? The Canadian government watched this whole transpiration very closely, a metric of their fear. If this is the existing state of Canada based on its proximity to the world epicenter of corporatism, what are Africa's chances in massively increasing their exposure?
Obama had better send his condolences, given how pivotal his supporters, (Gates and Buffet, not to mention the Clintons) were in capitalizing on and developing the circumstances that directly contributed to the human tragedy at Lac-Megantic, in the machinations of attenuating environmental movements through foundation funding for their own profit (-350.org). This parley is purely a financial one that happens to amount to American control of Canada's oil distribution. 350.org (a Rockefeller Foundation assisted gambit) ran simultaneous to their "investment" forays capitalizing on the privatization and deregulation of Canadian rail to furnish oil for Americans while playing the Keystone XL pipeline as the environmental focus (diversion). In the meantime the transport of Canadian oil by rail to service the American market (based mainly on tar sands development) went up 28 000 percent, with Gates and Buffet having already primed their position to massively profit from this scenario. This is hypocrisy at an apex that truly snaps the scale.
(-BTW Reuters is slower than I am; I'm "prescient" enough, in fact, to attack this trifecta through one of its enablers citing this issue before it was involved in the manslaughter of my compatriots via neo-liberal corporate gross negligence, i.e., the concerted Americanization/privatization/deregulation of Canadian rail systems. But of course they had to have attention deficit disorder before long…)
With the machinations to shift oil transport to rail and develop the Canadian tar sands, Gates' and Buffet's massive profit was all but guaranteed by the manipulations of some very big players. What Gates doesn't realize (given his priori nature in the monolithic) is that even a well-intentioned very powerful individual such as himself (by the form of his definition of such) is harnessed by far more insidious ideological "philanthropic" agendas than he'd ever dare to dream up, with the contingencies of the privatization of education only beginning to reap their bitter waste. Here in itself is a case exhibit of the inherent fallacy and dangerous failure that is philanthropy, how it buys and sells everyone; the African foray will likely prove far darker. 1st things 1st: "trade" regulation that puts foreign agribusiness giants above the law; -and in control of the seeds. 
In a nutshell, neo-liberalism doesn't just kill the planet, it kills people, and no amount of philanthropy is going to save it from those inevitable ugly facts.
There are no qualifiers for their net benefit from a system of such pathological insanity as to structure this level of disparity in their personal enrichment.  There is no way to justify their existence, not even by giving it all away, -especially when we are privy to the nature of their "dispensation"; (they do not actually manage to give it away unless it services corporatism/exploitation, really self-perpetuation). You can't sidle with this level of unreality and expect to come out unscathed (its reverse victim complex requires ignorance that's beyond staggering, though it's beyond calculating).
Call me the canary, but you have begun reaping the death of your awareness campaign, since awareness only exists to the extent it actually is aware. Gates pays to play, and you've just been played (I'm pointing out the usual nature of this dynamic, your pride in not being a "cheap date"), capitalization on the very thing your foundation stood for (the price was cheap by his standards), while you simultaneously lost it to his/their public private partnership forays ("The New Alliance for Food Security and Nutrition") to the extent of existing as no more than a front in the public perception. As an awareness campaign, you've just lost the only thing you ever had, something that can never be bought, active empathy as a driving force based on integrity. On this count I was ahead of Mr. Monbiot too in stating my very (voluble) serious discomfort (the comments are indeed enlightening, worth reading in their entirety).
The African voice was not present at the Ireland G8 Summit; ONE effectively replaced Africans with a board of the über wealthy who think they know what's best for Africa with a membership of non-Africans "supporting" Africa. (If that is not the very structure of paternalism, I do not know what is.) Even were its membership to continue growth, ONE's measure of failure may be its very success. 
Welcome, Bono, to tar sands philanthropy.  Here's a quick debrief on "dilbit" (it gets better), which it appears Bill Gates is in sore need of also. (Clinton was definitely slow.) As for pipelines, they go "boom" and rupture just as nice.
The similitude is too close for comfort. When the foxes run the chicken house (in Canada, this as is as literal as it can get) what you will get is an unholy mess, if not a slaughter, -a mess any way you slice it.
You must install Adobe Flash to view this content.
No Such Thing as a Free Gift: The Gates Foundation and the Price of Philanthropy - Hudson Institute
Gates Foundation is spearheading the neoliberal plunder of African agriculture - The Ecologist
"Concealed below this innocuous headline is a very interesting tale about Israeli start up NSO Group designing million-dollar spyware for the United Arab Emirates - which doesn't recognise Israel as a state - to hack the iphone of a human rights activist in that country. 
Oh and the private equity firm, Francisco Partners, that owns NSO Group? Yeah, their head office is just down the road from Apple HQ."